Looking for a Ford LTL9000 for sale? You're in the right place! At FindingTrucks.com, we have a wide range of Ford LTL9000 trucks for sale, both new and used. So whether you're looking for an affordable work truck or something that can take on your daily driving needs, our selection has something for you.
To help you choose the right model for your needs, we've provided information on each of our available Ford LTL9000 trucks. This includes details on specs, features and prices so you can make an informed decision about which one is best for you. So don't wait any longer – browse our selection today and find the perfect truck to fit your needs!
Available FORD LTL9000 For Sale
Check out our selection of available Ford LTL9000 trucks for sale. These trucks are perfect for hauling loads and can be customized to meet your needs.
1984 FORD LTL9000 For Sale In Colfax, North Carolina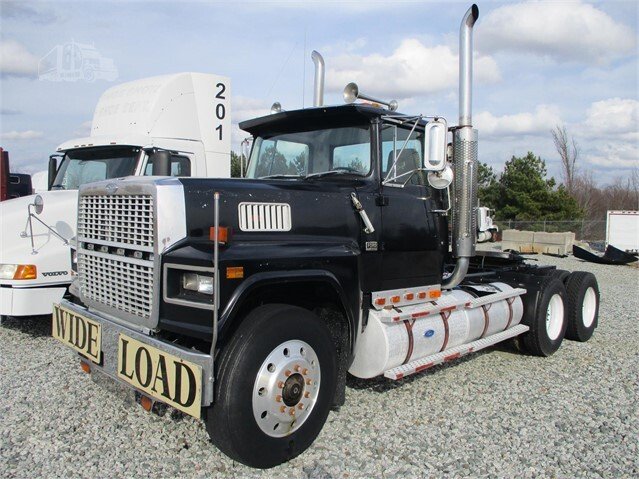 Specifications:
Year: 1984
Manufacturer: FORD
Model: LTL9000
Condition: Used
VIN: 1FDYA92W6EVA20782
Horsepower: 350 HP
Engine-Manufacturer: Cummins
Engine-Model: NTC350
Engine-Serial Number: 11142520
Engine-Displacement: 14.01 l
Fuel Type: Diesel
Exhaust Type: Dual
Transmission; Manual
Transmission Manufacturer: EATON-FULLER
Number of Speeds: 9 Spd
Ratio: 3.73
Chassis:
Drive: 6×4
Suspension: Hendrickson
Number of Rear Axles: Tandem
Color: Black
Cab: Standard Cab
Tires: LP22.5
Tire % Remaining: 70
Retread Tires: Yes
Wheels: Aluminum/Steel
Wheelbase: 204 in
Gross Vehicle Weight Rating: Class 8: 33,001 pounds or greater
Gross Vehicle Weight: 50,000 lb
Front Axle Weight: 12,000 lb
Rear Axle Weight: 38,000 lb
5th Wheel Type: Sliding
Interior:
Drive Side: Left Hand Drive
A/C Condition: Good
Seats Upholstery: Cloth
Capacities:
Fuel Capacity: 200 gal
Info:
Pricing: $19,500
---
1987 FORD LTL9000 For Sale In Huntingdon, Tennessee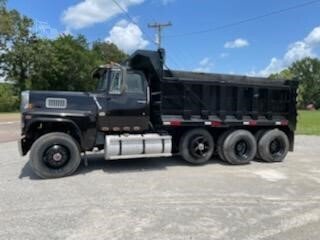 Specifications:
Year: 1987
Manufacturer: FORD
Model: LTL9000
Condition: Used
Mileage: 951,688 mi
VIN: 1FDYA90X5HVA47908
Horsepower: 240 HP
Engine-Manufacturer: Caterpillar
Engine-Model: 3406
Engine-Displacement: 14.63 l
Fuel Type: Diesel
Engine Brake: Yes
Transmission: Manual
Transmission Manufacturer: EATON-FULLER
Number of Speeds: 13 Spd
Chassis:
Gross Vehicle Weight Rating: Class 8: 33,001 pounds or greater
Interior
Drive Side: Left Hand Drive
Info:
Pricing: $35,000
---
1989 FORD LTL9000 For Sale In Billings, Montana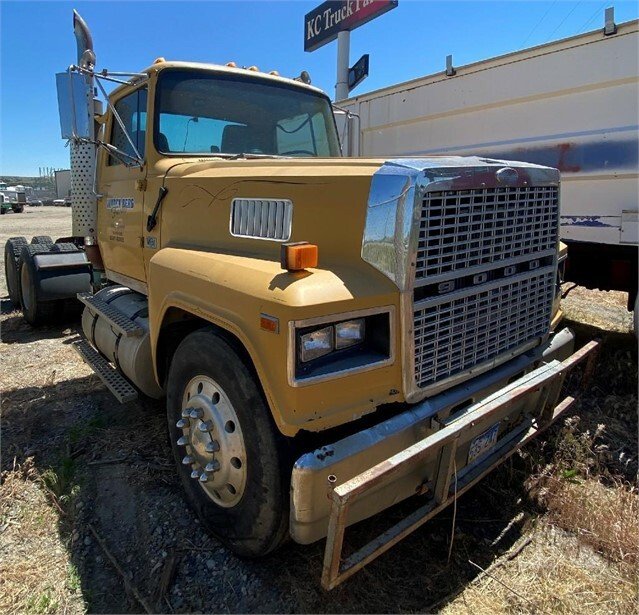 Specifications:
Year: 1989
Manufacturer: FORD
Model: LTL9000
Condition: Used
VIN: 1FDYA90W7KVA53286
Horsepower: 300 HP
Engine-Manufacturer: Cummins
Engine-Serial Number: 11537483
Engine-Arrangement: D093541BX02
Engine-Displacement: 14.01 l
Fuel Type: Diesel
Number of Speeds: 13 Spd
Chassis:
Number of Rear Axles: Tandem
Gross Vehicle Weight Rating: Class 8: 33,001 pounds or greater
Interior:
Drive Side: Left Hand Drive
Info:
Pricing: $18,000
---
1997 FORD LTL9000 For Sale In Summersville, West Virginia
Specifications:
Year: 1997
Manufacturer: FORD
Model: LTL9000
Condition: Used
Mileage: 500,000 mi
VIN: 1FTYA90U7VVA04578
Horsepower: 475 HP
Engine-Manufacturer: Cummins
Engine-Model: N14 CELECT PLUS
Engine-Brake: Yes
Transmission: Manual
Transmission Manufacturer: EATON-FULLER
Number of Speeds: 10 Spd
Chassis:
Drive: 6×4
Suspension: Hendrickson
Number of Rear Axles: Tandem
Wheels: Aluminum Outside
Gross Vehicle Weight Rating: Class 8: 33,001 pounds or greater
Gross Vehicle Weight: 80,000 lb
Interior:
Drive Side: Left Hand Drive
Info:
Pricing: $19,500
---
1990 FORD LTL9000 For Sale In Pleasureville, Kentucky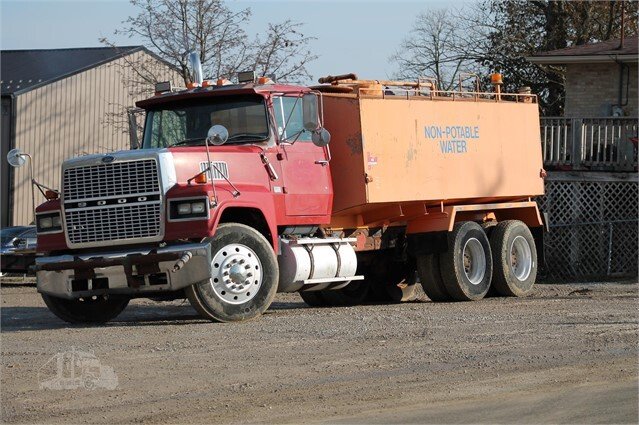 Specifications:
Year: 1990
Manufacturer: FORD
Model: LTL9000
Condition: Used
Mileage: 500,962 mi
VIN: 1FTYA90W5LVA35066
Horsepower: 300 HP
Engine-Manufacturer: Cummins
Engine-Serial Number: 11588514
Engine-Arrangement: D093541BX02
Engine-Displacement: 14.01 l
Fuel Type: Diesel
Chassis:
Gross Vehicle Weight Rating: Class 8: 33,001 pounds or greater
Interior:
Drive Side: Left Hand Drive
Info:
Pricing: $18,750
---
1989 FORD LTL9000 For Sale In Covington, Tennessee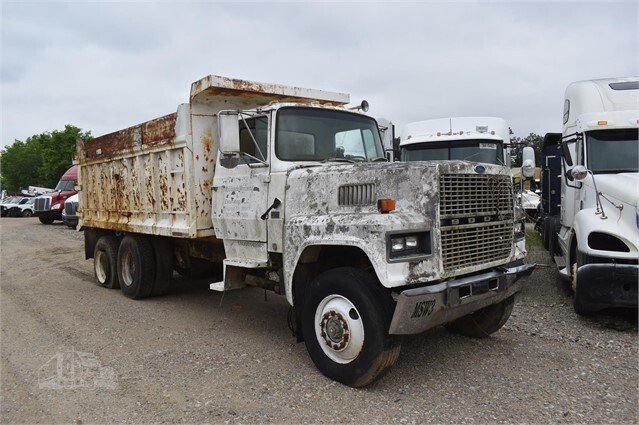 Specifications:
Year: 1989
Manufacturer: FORD
Model: LTL9000
Condition: Used
Mileage: 328,654 mi
VIN: KVA47166
Horsepower: 350 HP
Engine Manufacturer: Cummins
Engine Model: NTC855
Fuel Type: Diesel
Exhaust Type: Single
Transmission: Manual
Transmission Manufacturer: FULLER
Number of Speeds: 9 Spd
Differential Lock: Yes
Chassis:
Drive: 6×4
Suspension: Walking Beam
Number of Rear Axles: Tandem
Color: WHITE
Wheels: All Steel
Front Axle Weight: 14,600 lb
Rear Axle Weight: 40,000 lb
Cab: Standard Cab
Interior:
Drive Side: Left Hand Drive
Category Specific:
Composition: Steel
Dump Type: End
Body Shape: Rectangle
Info:
Pricing: $10,000
---
1987 FORD LTL9000 For Sale In Glenburnie, Ontario Canada
Specifications:
Year: 1987
Manufacturer: FORD
Model: LTL9000
Condition: Salvage
Interior:
Drive Side: Left Hand Drive
Info:
Pricing: Call
---
1982 FORD LTL9000 For Sale In Fort St John, British Columbia Canada
Specifications:
Year: 1982
Manufacturer: FORD
Model: LTL9000
Condition: Used
Mileage: 82558 mi
Hours: 1776
VIN: 1FDYA92W1CVA00369
Engine Manufacturer: Cummins
Fuel Type: Diesel
Transmission: Manual
Number of Speeds: 13 Spd
Chassis:
Drive: 6×4
Suspension: Air Ride
Number of Rear Axles: Tandem
Tires: 11R24.5
Wheels: Aluminum
Gross Vehicle Weight Rating: Class 8: 33,001 pounds or greater
Gross Vehicle Weight: 50,000 lb
Interior:
Drive Side: Left Hand Drive
Category Specific:
Dump Location: Rear
Wet Kit: Yes
Info:
Pricing: $26,230
---
You May Looking For: